Good To Go Rentals
"Small" enough to CARE. "Big" enough to SUPPLY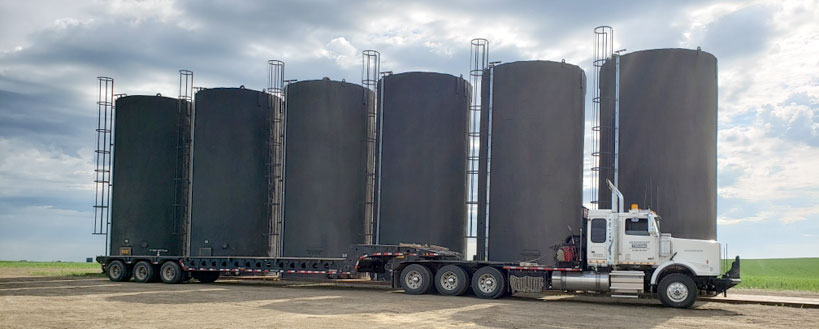 Good To Go Rentals is constantly growing with the oilfield industries needs and technology.
Good To Go Rentals provides commercial and oil field rental equipment for short or long term rental. We offer the following rentals for a number of projects and construction sites:
Tanks and Accessories
1000BBL Upright Insulated Storage Tanks
400BBL Slope Bottom Tanks
2" Steam Coil
Manifolds (12" D) (12'-20'L)
Blowback Tanks (30-60 m3 Sizes)
Line Pipe, Chokes, Risers, and Well Head Accessories Available
Surface Equipment
Floc Tanks (400BBL 4-Compartment Skidded Low Profile and Standard Height)

Complete with 2" & 3" cranes and (4) Vacuum Lines

Flare Tanks (Skidded Header Style Flare Tanks- Various Sizes)
Mud Storage Tanks (30 – 100m3)
Shale Bins (20' & 40' low and high wall 3 sided bins c/w fluid humps)
Pipe Racks (Various Heights and lengths)
Pumps
4" flygt Pumps
2" Trash Pumps
4" Trash Pumps
6" Trash Pumps
3" Honda Gas Pumps
4" Honda Gas Pumps
Note all pumps are supplied with discharge hoses, tank hooks and flow line adapters as requested.
Rig and Safety Matting
8' x 40' Rig Mat
8' x 20' Rig Mat
6' x 16' Grating Mats
3' x 12' Camp/Safety Mats
Environmental Bins
Plant Site Environmental Bins
Enviro Bins w/2 portable restrooms
Rig Bins w/ Oil Disposal
Steel Bins
Loaders
Wheel Loaders

Accessories Include: bucker, grapple, pallet forks and stinger arm
Light Towers
8KW Towable Light Towers
20KW Towable Light Towers
Generators
40-100KW Skid Mounted Generators
25 KW Terex Trailer Mounted Generators

c/w single and three phase settings (120/208/460V)
Miscellaneous
Frost Fighters

c/w 12" canvas heating ducts

Wellhead Fittings and Accessories

Frac valves, Ball valves, Gate Valves, Critical Flow Provers, Adjustable Chokes, Hoses and Line Pipe

Portable Toilets
Our rental department also provides loaders, service trucks and hot shot, pilot truck and custom manufacturing services. No matter what your needs, we have you covered. Contact Good To Go Rentals to learn more about our equipment and to make your request today